I wanted to bake some cupcakes over the weekend and add some of our edible flowers from the garden to them.
Right now, we have a lot of violas and pansies growing.
I made chocolate cupcakes with pansies on top,
displayed on a vintage plate.
Sprinkled with some powdered sugar.
I loved the flowers I picked and
wanted to create a watercolor with them.
I sketched the flowers with ink, then
out came my paintbrushes.
I loved how the watercolor turned out.
I thought it would be fun to have paintbrushes for the stems.
It added a little whimsy to it!
I had to make one or two gift tags.
I love how each flower is different.
I always enjoy being creative.
Did you have some time this week to make something special?
If you have been featured on
feel free to add my button!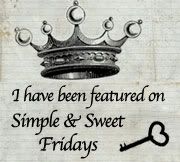 Enjoy the Simple & Sweet Friday linky party!