We have new members to our family.
A doctor we know was moving and needed
to find
a home for
his two Ameraucana Chickens.
He just wanted to make sure they found a good home.
We have been wanting to raise chickens for some time now.
Reading lots of books and taking classes.
But, as you know there's nothing like a hands on experience.
We brought the chickens home last Saturday.
Maggie our Lab, was wondering,
what was all the excitement about.
Stan and Justin moved the chickens and chicken coop
They seemed to adjust to their new surroundings easily.
Carly fed them and they were very happy.
They were so entertaining.
So far, we are getting nothing done around the house.
We just love watching them.
I have a broken bird bath that works nicely for their food.
We have been getting fresh eggs daily and
are looking forward to our new members
being part of our family.
~Life is a wonderful thing~
If you have been featured on
feel free to add my button!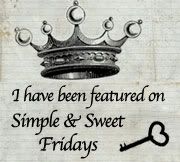 Enjoy the Simple & Sweet Friday linky party!