I always love making a Pumpcullent for Fall!
A pumpkin with succulents glued on top.
It looks so pretty in our Autumn garden.
They usually last through the Winter.
We always have plenty of succulents growing in the garden.
You can hot glue some moss and then hot glue the succulents on.
Mist the succulents once a week.
It's a very easy project for Fall.
I wanted to share with you our pumpkins this year.
Not as many because of the hot weather,
but at least we have some.
I love the things I collected in the garden today.
I'll use them for my Autumn decorations in the house.
I made some zucchini bread today,
the kids love it for breakfast.
Some cute pumpkin cookies from Panera Bread Bakery.
I think I'm almost done decorating for Fall in the house now.
We grew lots of Butternut Squashes and Jack-Be-Little pumpkins
~They make a wonderful Fall vignette~
If you have been featured on
feel free to add my button!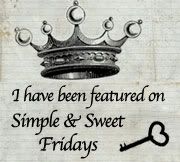 Enjoy the Simple & Sweet Friday linky party!