I was inspired to make a Fall place setting name tag and
Rhinestones give it just the right embellishment it needed.
The holidays are here and what better way to display a name holder for Fall
but with a Jack-Be-Little Pumpkin.
I used a 12 gauge wire and bent it around a pencil.
I then used a pretty rhinestone I found at Michael's Craft Store and placed it on the top part of the wire.
I cut out some pieces of card stock for the name tags.
I bent the wire against the cards to support the back.
I decided to use a scallop paper punch for the card stock.
It turned out just the way I wanted it,
a special place setting for a
I used leaves for the guys!!
The Fall table was a very simple look with added
pumpkins for the name tags.
Love how they turned out!
I saw another idea for a place card holder.
After bending the wire around the pumpkin stem,
I added a small loop to the wire.
Then I added a flower to the top of the wire.
The added wire leaf gives it a whimsical look.
Depending on your table setting,
you could use any kind of flower to the wire.
I used fresh flowers which you would add the day of the occasion.
Plastic flowers would work also.
Hope this gives you some inspiration for the holidays!!
If you have been featured on
feel free to add my button!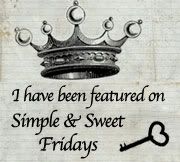 Enjoy the Simple & Sweet Friday linky party!