Your life is what you make it.
Family, Friends, Health, and Happiness
I have met so many wonderful
friends through
blogging.
It's always fun to read about their projects and how creative they are.
I just wanted all my friends to know that I already combined my Thyme for Home blog and Rooted In Thyme blog. Having two blogs was a bit much for me to keep up with so I will incorporate into one and see how you like the new version.

So I will stop posting on Thyme for Home and only post on Rooted In Thyme. Please continue following my Rooted In Thyme blog, I love all my visitors and followers. Thanks so much to everyone who has followed me on my blogging journey! I will now have more time to comment and explore everyone else's blogs and continue to enjoy the interaction and sharing creative ideas with you all. Thank you for your endless support.
Sincerely, Jody Gabara
The site will be under construction until we are done combining the two blogs and remodeling.
Thank you for your patience!
Last weeks Simple & Sweet Features!
The top four viewed blogs from last weeks Simple & Sweet Fridays all had a similar theme:
Which of these blogs do you think looks the best for the season?
Go check out Common Ground's post Window Box Centerpiece for Fall
!
I love the muted fall colors Debra used to keep it looking simple.
Go check out Debbie Dabble's post Autumn in the Living Room 2012!
I love how Debbie used an old wagon and painted it red to give it new life. Paint really does make a difference.
I love the warm colors Sarah used for her fall centerpiece! The branches she added do put a unique touch to any room.
If you have been featured on
feel free to add my button!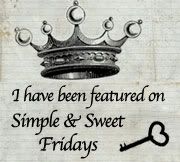 Happy Simple & Sweet Fridays Everyone!
Do you have any posts that you find
inspiring for other bloggers to read!
Just link them up. It's just that simple.
Please become a follower of Rooted In Thyme &
grab my button so everyone can join the fun!
Please link up a post that you think everyone will love!
No direct blog links, etsy links, linky parties, or advertising links.
Please look at 3 links that bloggers have linked up and comment them telling them why you looked at their post
Enjoy the Simple & Sweet Friday linky party!
Thank you for visiting & following Rooted In Thyme!