Kara Noel Lawson, Lidy Baars, Cheryl Turner, Sharon Hughes, Norman Rapko, Melissa Bolton, Martha Karelius
My daughter, Carly, surprised me with tickets to
Launch Your Creativity in April.
Kara Noel Lawson, Social Media Maven and Creator of "Small Things are Big Things"
Martha Korelius, Business Coach and Owner of "A Better Version of You"
Sharon Hughes, Life Coach and Creator of "Launch Your Creativity"
Josh Backstrom, Chef at "Paris In A Cup Tea Salon"
Cheryl Turner, Public Speaker and Proprietress at "Paris In A Cup Tea Salon"
Roger Canamar, Couture Desinger at "Roger Canamar Couture"
Lidy Baars, Public Speaker and Proprietress at "French GardenHouse"
Norma Rapko, Author and Creator of "Crystyler"
Melissa Bolton, Branding Expert and Propritress of "Melissa Bolton Ink"
Here are some photos from the event
We had a wonderful lunch!
Special Gifts from the Event
Erin Houghton is a friend I met at the last Launch Your Creativity.
It was an event I'll never forget!
Hey Beautiful Girl it's time for you to listen to the dreams in your heart. I'm putting together an intensive workshop
that will speak to your heart, soul, mind and leave you filled to the brim with a fresh vision for your life.
I want to see you grow and embrace the talents and gifts you've been given.
I am committed to fostering personal and proffessional growth through Launch Your Creativity's events.
Join the Magic, register today. Seating is limited to the first 42 ladies that dare to dream out loud!
It really is a life changing experience!
If you have been featured on
feel free to add my button!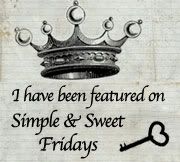 Enjoy the Simple & Sweet Friday linky party!