Carly, our daughter, came up with this idea to make a 2016 calendar with a vintage window!
She loves repurposing anything old.
If you have a vintage window and don't know what to do with it,
using it for a calendar is a great project!
She started by cutting pieces of different colored paint samples
for the calendar. She found the sample colors at Home Depot.
She had a 28"x 30" inch window.
She cut square pieces of paper 3 1/4"x 3 1/4" for the big write in days of the week. And then cut the pieces of paper for the top with the days of the week,
There was a gap 4 3/4" from the top of the frame of the window.
She wanted each day of the week to be the same color paper.
Cutting smaller pieces of paper for the days of the week.
She marked it with a erasable marker and figured out where she wanted the paper to be.
She then used tape to secure everything down on the glass.
Carly started to mark her job hours on the calendar with a wipe off marker and
wiping it down when it changes.
Great idea for a kitchen, craft room, or any room
you'd like a vintage window to display a calendar!
If you have been featured on
feel free to add my button!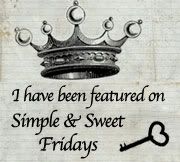 Enjoy the Simple & Sweet Friday linky party!