We are so thankful for the many wonderful things in our lives.
One, is to let you know how much your friendship and
support has meant to us over the last year.
Thank you for always being there.
I'm going to have the family write down what they're
Then, after dinner we will share them with each other.
I had all the materials I needed for the project.
I made a tag for the jar.
You know how much I love stamping.
Tied some ribbon around the jar that I put the cards into.
A wonderful family activity for Thanksgiving!
In addition, I also stamped some napkins for the holiday.
Just a couple of simple things to make the holidays a little more fun!
with family and friends!!
If you have been featured on
feel free to add my button!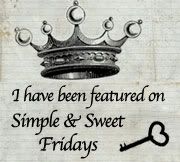 Enjoy the Simple & Sweet Friday linky party!