(Me, Bernadette and Charmaine)
I wanted to share with you what I did on Mother's Day!
16th Annual Mom's on the Run for Breast Cancer in Reno, Nevada!
Stan surprised me and
we flew from
San Diego to Reno to participate.
The view from the plane of the beautiful Sierra Nevada Mountains
covered in snow was breathtaking!
My sisters have been involved in this event for years,
and I've always wanted to walk in it.
The race is a 5k Walk and a 5k/10k Run.
It starts out at Reno High School.
There were about 4,000 people that attended.
It was raining the day before but,
the day of the race was perfect!
We walked by the Truckee River which was beautiful!
It was fun seeing all the people in the race with their costumes!
Even the police were dressed up for the event!!
(me, Charmaine, Jenay-Bernadette's daughter, Bernadette)
We were given pink carnations and water at the finish line!
Chooch, Charmaine, Bernadette, me
It was a wonderful surprise to see my sisters and
participate in this great event!!
Hope you all had a good Mother's Day weekend!
If you have been featured on
feel free to add my button!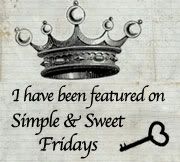 Enjoy the Simple & Sweet Friday linky party!